DRUG DISPOSAL
Disposing of drugs safely is one way to prevent misuse. Search the Drug Disposal Locator Tool for permanent drug disposal boxes in your area.
Old prescriptions left unsecured in the home can often be an easy source for someone thinking about unsafely using prescription medications and can pose danger to pets or children who may accidentally ingest them. Each year, there are approximately 60,000 emergency department visits  and 450,000 calls to poison centers after children under 6 years old ingest medication without a caregiver's oversight. They can also be confusing for elderly people who may have multiple prescriptions.
Locate a Drug Disposal Box
Your community may have permanent drug disposal boxes at the following locations:
Police departments
Pharmacies, including independent and chains
Fire stations
Hospitals
Municipal buildings
Our Drug Disposal Locator Tool includes more than 10,000 of these locations nationwide. Search using your zip code to find a permanent disposal box near you, as well as the facility's hours, directions, and accepted medications. The locations are updated regularly providing you with more places to safely dispose of your medications.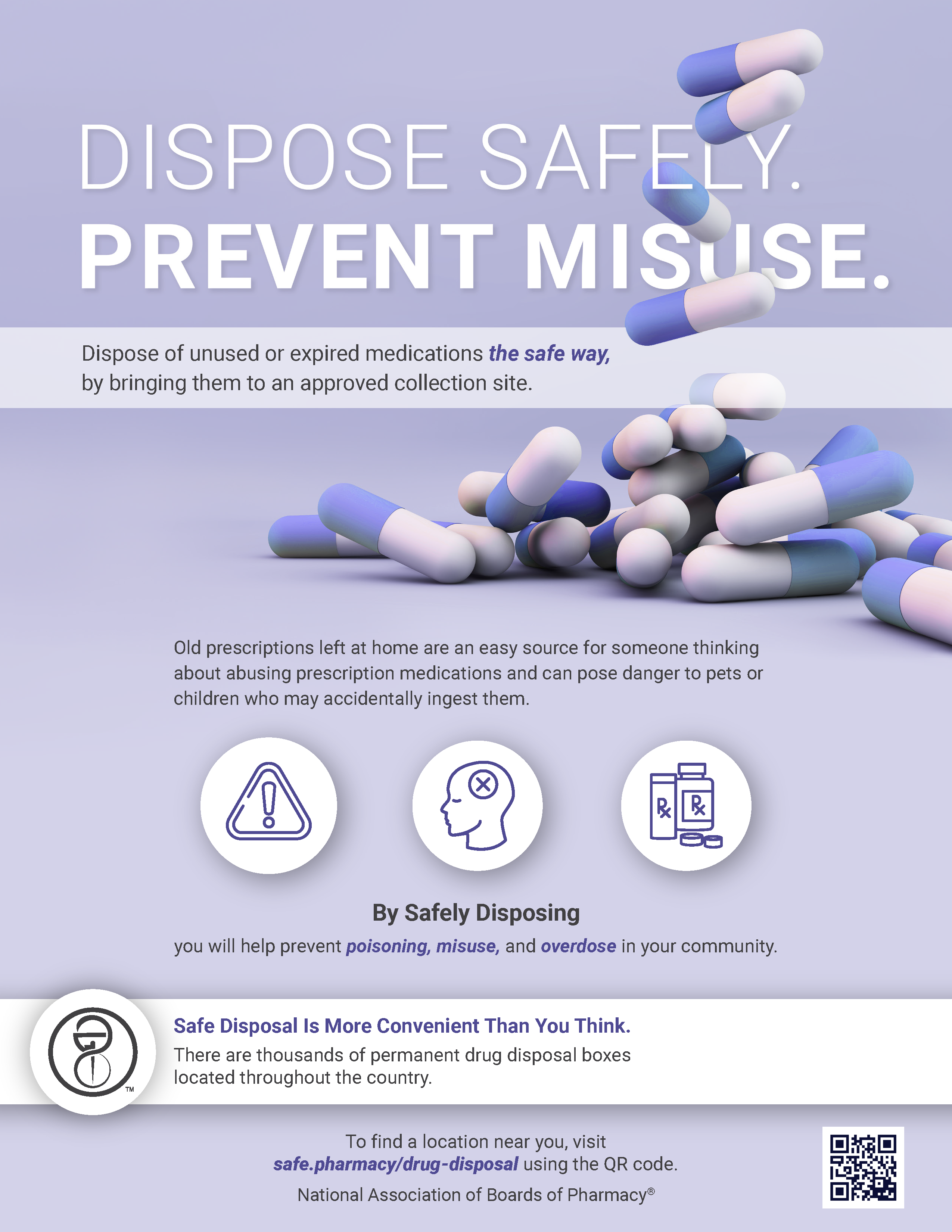 In addition, DEA has a National Take Back Day twice a year where temporary disposal sites are set up across the nation.
Learn more about ways to spread the word about the safe disposal of unused opioids using FDA's toolkit, which includes public service announcements, social media posts, fact sheets, and more.
At-Home Medication Disposal Guidelines
The first line of defense should be immediate disposal in a permanent drug disposal box, especially for substances with potential for misuse. However, some medications can be safely disposed of at home if a drug disposal box is unavailable. Throwing old pills in the trash is often not the safest way to dispose of old medication, and flushing may contaminate the water supply, so it is important to learn proper at-home practices.
If you are unsure about what to do or do not have access to a permanent disposal box in your area, read the guidelines below.
1. Check the label for any disposal instructions.
2. While flushing is not recommended in most cases, some medications need to be flushed if no take-back options are immediately available in your area.
3. If your medication does not have special instructions, such as flushing, and you don't have take-back options available in your area, mix the leftover medication with an undesirable substance, such as dirt, coffee grounds, or cat litter, and put it in a sealable bag, can, or container. Dispose of it in the trash. Some retail pharmacies also offer a free powder product that, when mixed with warm water and prescription pills, will become a solid that can be safely thrown in the trash.
4. If disposing of sharps, place them immediately in a disposal container obtained through a local pharmacy, medical supply company, or your health care provider. If you cannot obtain an FDA-cleared container, use a heavy-duty plastic household container, such as a laundry detergent container. Ask your doctor or pharmacist how to dispose of the container in your community.
Contact your state board of pharmacy or pharmacist for additional questions about disposal regulation in your state. More detail on safe drug disposal can be found on the FDA website.
Consider Donating Before Disposing
Drug donation programs is another way for you to remove unneeded prescription drugs from your home with the added benefit of helping others in need.
Contact your state board of pharmacy to learn more about drug donation programs. Several state boards will accept unused medications and sharps from out-of-state consumers.
You can also contact your local animal shelter, health department, or other local organizations, such as shelters, relief agencies, or religious institutions, to see if they accept medical donations.
Your prescription may be eligible to donate if it is:
Sealed/unopened
At least 5 months before its expiration date
Non-refrigerated
Non-controlled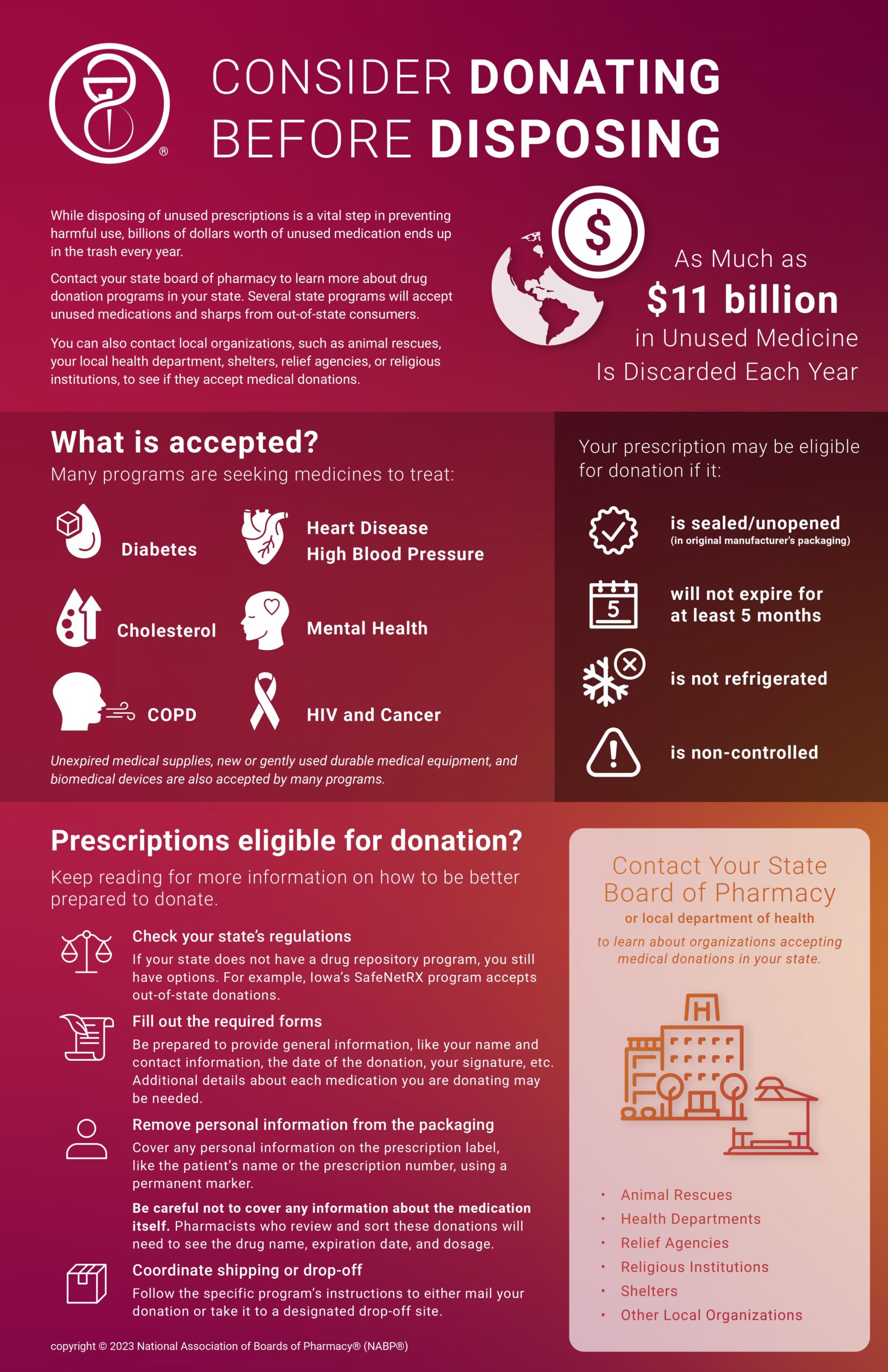 Unexpired medical supplies, new or gently used durable medical equipment, and biomedical devices are also accepted by many programs.
For specific information about donating diabetes supplies, visit the American Diabetes Association.
---
If you would like to add a permanent disposal location to the drug disposal locator database, email this form to marketing@nabp.pharmacy. To set up a collection box, visit the DEA website.